Our
ZINCO

I

SEL

Boluses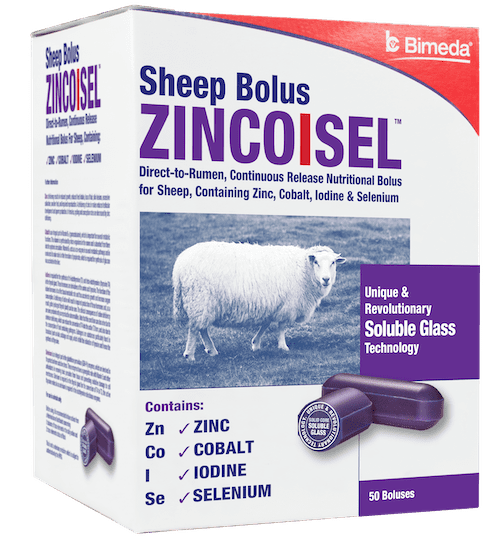 Download Data Sheet
Our ZINCOISEL soluble glass boluses supply rumen-available ionic zinc, ionic cobalt, selenium and iodine at a controlled and constant rate, for up to 4 months in sheep.
Uses: For use in areas of zinc, iodine and selenium deficiencies and for the improvement of cobalt supply. The ZincoIsel sheep bolus supplements the diet of the sheep with the nutritionally essential minerals zinc, cobalt, iodine and selenium for up to four months.
ZINCO

I

SEL

boluses contain zinc, selenium, cobalt and iodine

Zinc

Zinc plays a role in immune function, fertility (sexual maturity, the onset of oestrus, reproductive capacity, hoof health, udder health, skin health, wound healing and cell development.

Selenium

Selenium deficiency can result in White Muscle Disease, impaired reproduction, retained placenta, reduced immunity and reduced milk production.

Cobalt

Cobalt is required for the production of vitamin B12, which is important for thrive and fertility. The body has no capacity to store cobalt, meaning cobalt must be continuously supplied.

Iodine

Animals deficient in iodine can suffer from a range of problems, including poor growth, weight loss, impaired reproductive health, reduced bone growth, decreased milk yields, calves born hairless and lambs born weak or dead.

*ZINCOISEL boluses are not a registered medicine, such as require authorisation by the HPRA.
---
Our ZINCOISEL boluses contain:
7.60% Ionic Zinc
0.50% Ionic Cobalt
0.15% Selenium
1.00% Iodine
Meat & Milk Usage:
Meat, milk and offal may be used directly after administration