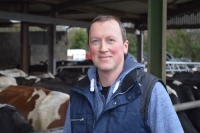 The CoseIcure soluble glass boluses supply the same levels of ionic copper, cobalt, selenium and iodine every single day for up to 6 months. These trace elements can play a vital role in fertility and health.

The CoseIcure range is enjoying rapid growth in Ireland; and is being increasingly specified by farmers, vets and merchants, who are looking for a high quality bolus that provides a solid return on investment.
One such farmer is Aiden Leddy click here to learn about the difference that CoseIcure cattle boluses have made on his farm.