Direct-to-Rumen, Continuous Release Nutritional Bolus

Download the Data Sheet
USES
For use in areas of copper, iodine and selenium deficiencies and for the improvement of cobalt supply. CoseIcure supplements the diet of calves with the nutritionally essential trace elements of copper, selenium, iodine and cobalt through the early growing stages.
Each Bolus Contains:
13.4% w/w ionic copper
0.50% w/w ionic cobalt
1.00% w/w iodine
0.15% w/w selenium
Presentation
Continuous release intraruminal device. A cylindrical, blue glass continual release intraruminal device weighing approximately 33g.
*COSEICURE boluses are not a registered medicine, such as require authorisation by the HPRA
Are they different from other boluses?
Yes. Bimeda revolutionary boluses are completely unique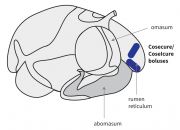 Through releasing ionic copper in the rumen, Cosiecure is the only true dissolving bolus, and dissolves at a slow but constant rate.
Calf Bolus Applicator Instructions